The team at Skintel are very experienced at removing lipoma and other lesions. You can rest assured that you are in good hands if you are looking to get yours removed.
What causes lipomas?
Lipomas can form anywhere on the body and appear as a small, soft lump that is easily movable under the skin. The cause of lipomas is not known, however, the development can be caused by trauma.
There also seems to be a genetic component as people sometimes have a family history of lipoma. They are not cancerous, however, when the diagnosis is uncertain people may undergo the removal of it to confirm the diagnosis.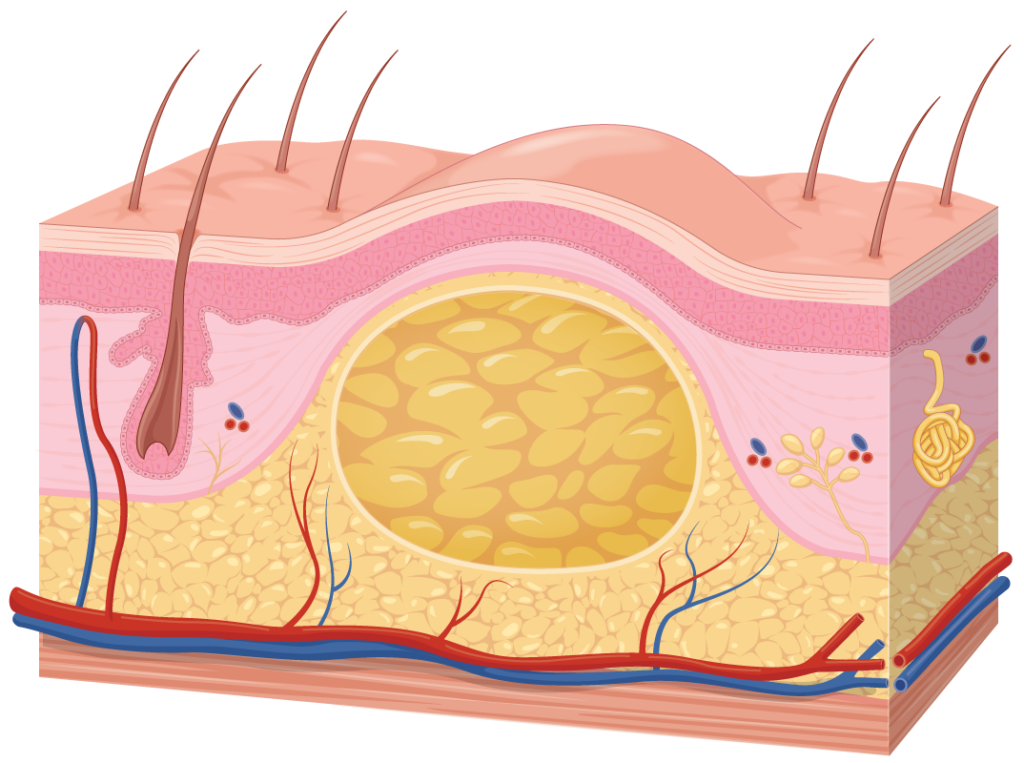 What can you expect with removals at Skintel?
When you make an appointment at Skintel, your dermatologist will discuss your concerns and any symptoms arising from your lesion. Following an examination of the lump, your dermatologist may confirm the diagnosis. If they are uncertain, you will be referred for an ultrasound scan prior to having it removed.
Following the initial appointment and examination, you may decide with your dermatologist that removing the lesion is the best option. If so, you will be booked for the minor procedure in Auckland at Skintel. Our priority is to safely and effectively remove the lesion to minimise the risk of recurrence. We also pride ourselves on delivering the best cosmetic results.
Frequently Asked Questions
How do you diagnose a lipoma?
Our experienced dermatologists have seen thousands of lipomas, so in most cases, they can make the diagnosis by clinical examination alone. However, in some cases, lipomas can exhibit unusual features so it may be prudent to undertake an ultrasound scan prior to the removal.
Is the lipoma removal surgery a major procedure?
This removal surgery is considered a minor outpatient procedure, which is performed under local anaesthetic. This means that you will be awake during the procedure and will only need to be at the clinic for about 45 minutes.
How long does it take to recover from the removal procedure?
This surgery is typically an uncomplicated procedure and the recovery is usually also relatively straightforward. Recovery time does depend on the size and location of the lump, however, most are able to return to office-type work within 24 hours. Most people will need to avoid physical work or exercise for about one week to avoid popping the stitches.
Our team will provide you with detailed information including how to look after the wound following the procedure.
Is there an alternative to surgery for lipoma removal?
If it isn't causing problems they don't need to be treated or removed. There are some alternative treatment methods, including liposuction, however, they tend to have higher rates of recurrence.